Starting your remodeling project
Any type of home improvement project can be costly, and next to the kitchen, a bathroom remodeling are the two most expensive. But the process is an investment as you enhance your home and the quality of life within your home. It also increases the long-term value of your home, whether you do the work yourself or hire professional bathroom remodeling services. 
Okay, we've introduced the cost factor, so, before we give you numbers, you're going to ask "Is it worth remodeling a bathroom?"  and "Does remodeling a bathroom increase home value?"  We can't give you a one-size-fits-all cost, but there are many different factors to be considered in bathroom remodeling services. The existing bathroom and surroundings, the bathroom size and the scope of work you're looking to have done.  Still, you're asking what's the average cost of remodeling a bathroom? We're going to give you some average figures, then we'll get down to answering the questions that will get you a more accurate price range: 
A Midrange Bathroom Renovation will cost between $40,000 and $70,000.
An Upscale Bathroom Remodel will cost between $70,000 and $90,000.
Notice one is "renovation" an the other is "remodel". What is the differences? Keep reading!
The cost for a midrange 5×7 bathroom update, keeping with standard selections and no change to the layout will cost approximately $40,000 to $70,000. You can expect a 50% ROI should you sell your home.
Renovating a bathroom will typically include electrical and plumbing upgrades, upgrade to designer style toilet and a quality cast iron bathtub with ceramic tile surround.
A vanity top made of marble or other type of solid-surface with quality cabinetry with quality hardware. Shower control and fitting upgraded to all brass. New paint using a premium quality paint, or wallpaper, new flooring with ceramic or a vitreous tile material.
An Upscale Bathroom Remodel services will include expanding a small bathroom or creating an owner's suite to a luxurious environment. For a cost of $70,000 to $90,000, with a 56% ROI, it could include relocating plumbing fixtures, install a walk-in shower, frameless glass enclosure, and tiled walls that include a recessed shower storage with spa-styling water fixtures.
A compartmentalized commode could be created to give the toilet area more privacy and make the bathroom more comfortable. Custom cabinetry with stone countertops with a stand-alone bathtub would be included with accent lighting and high-end flooring. In the Pennsylvania area where winters are cold, an upgrade of an electric in-floor heating to give you more coziness would be included for that price range of bathroom remodel services.
How do I plan a bathroom remodeling project?
Here offer 10 steps that professional bathroom remodel services consider to be crucial in planning a bathroom remodel or renovation:
Measure the dimensions of the bathroom
Sketch a plan of the bathroom design you have in mind
Decide the colors and theme
Source the new bathroom appliances, furniture, plumbing, taps, tiles, etc.
Keep a running ledger with the cost of each item and where you purchased it. Keep the receipts with this ledger for quick retrieval.
Determine what professional trades you'll need to hire, i.e. the electrician, plumber, tile person, etc. Get 2 to 3 quotes on each.
Make provision for use of another bathroom during the remodel or renovating time.
Make provision how and where to dispose of old materials.
Confirm your budget to meet the quotes and incidentals.
Measure again. Measure twice, buy or cut once.
What do you pick out first when remodeling a bathroom?
Your colors and theme, then the vanity, countertop, and cabinetry. This is why you need to measure and measure again so you know exactly what size you need. If you need customized cabinetry allow time, up to 10 or 12 weeks in most places. Then you want to choose your flooring and appliances, meaning the bathtub, shower, sink, toilet, etc.
Then choose the contractors you're going to work with, get the quotes and estimates in writing, a start date and timeline of the work to be completed. Some contractors may ask for money upfront. Most people will tell you not to pay anything, but many contactors won't start without some good faith funds put up first.
What are the steps in remodeling a bathroom?
The following are basic steps in how a bathroom remodel or renovation will go. Professional bathroom remodel services will have different procedures, it doesn't mean one is right or wrong. Things can vary from house to house.
1. Out With the Old Bathroom Fixtures
This is considered gutting the bathroom. If you are partially or totally renovating, most or everything will need to be removed or demolished. You need to have a dumpster on hand or other plans in place for this stuff. A bathroom remodel services company will have a dumpster usually delivered the day before they start work. You'll need to check with your local city or government office if a permit is needed.
How do you gut a bathroom for remodeling?
Drain the toilet and use a shop vac to complete empty it then remove it.
If the bathtub is being removed, cover it up and remove all the tile around it down to the bare studs.
Remove the insulation with reciprocating saw and gloves, eyewear, and masks.
Remove the cabinets, mirrors, vanities, floor tiles, baseboards, etc. Save what you can re-use, trash the rest.
2. Install the New Shower and/or Tub
After the bathroom, is gutter, you can being installing the new fixtures. If there is any wood rot or water damage under the old shower or tup, you need repair and replace that before you install your new appliances.
3. Install the New Fixtures & Features
With all the old stuff out, configure the electrical fixtures, install your new lighting, including the GFCIs.
4. Lay the New Floor Tiles
Use a chalk line to mark the perpendicular reference lines at a ninety-degree angle to the wall with the longest continuous line so that you keep the tiles straight as you lay them down.
5. Hang New Drywall and Paint or Paper
While you have empty walls, now is the time to install any new drywall needed then paint or paper it. This can take time with the drywall having to be cut around things like the vanity, but one you've got it all measured & cut, it will go up fast.
6. Install The New Cabinetry and Vanity
The first thing you want to install is the vanity, including the sink and faucet. Once you have the drain hooked up to the faucet, you can move on to the other essentials such as the mirror, cabinets and the trim around the shower or tub.
7. Connect the Plumbing
You're starting to recognize a bathroom by now, except for the toilet. Install that crucial part of the bathroom now.
8. The Finishing Touches and Wrap It Up!
Install the finishing trim around the mirrors, crown molding, etc. This is time for all the final touches that will make this room your oasis.
What should I ask a contractor when remodeling a bathroom?
If you decide to hire a professional that does bathroom remodel services, it is important to hire one that you're comfortable with. You want experienced and trustworthy as much as you want budget minded. Some questions to ask as you comb through 2 or 3 of them before deciding:
How long have you been provided professional bathroom remodel services?
Do you have formal training?
If not formal trained, where did you get your experience?
What professional associations are you a member?
Is your license registered with the city, state?
Do you have a copy of your insurance?
Cam you give me recent references to check?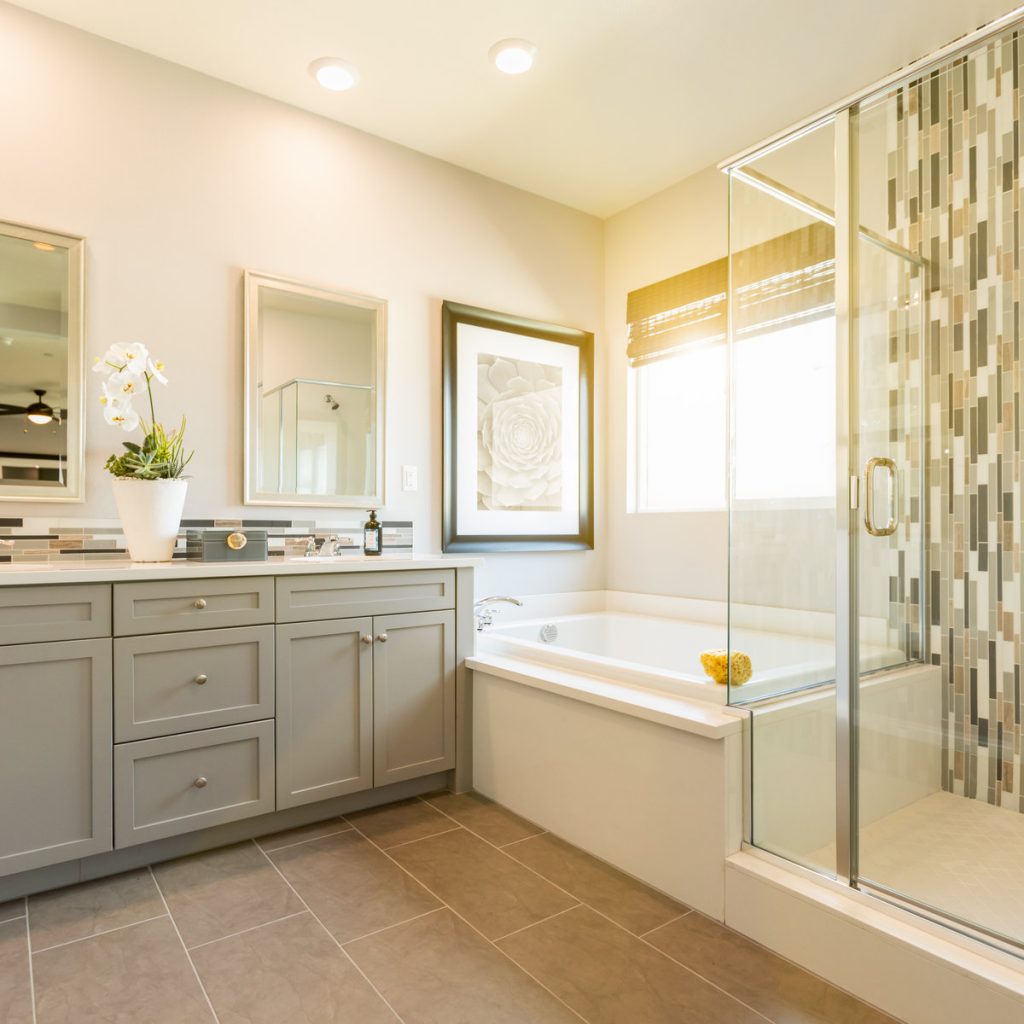 How can I update my old bathroom without remodeling?
Maybe your bathroom is just tired, or you're tired of looking at?  Either way, to get it updated, replaced the faucets and fixtures, adding brighter lighting and update the paper or paint on the walls. New curtains over the window, reface the cabinetry or remove the doors and go with the wicker baskets on the shelves. Call 267-622-7158 today for your bathroom remodeling in Philadelphia, PA.