Expert Excavating Services
When it comes to excavation, it's important to reference some common services that come with excavating. Land alteration, grading, and drainage correction are all different types of excavation. If you believe that your household or property is in need of excavating services in Philadelphia, PA, it's best to give our helpful crew a call. Once a customer gives us a call at 267-622-7158, we would be happy to take down the details of the services that you are needing. We provide lots of services to customers, including powerwashing, roofing, and masonry. If you need a quote or an inspection for your home or property, we would be happy to help.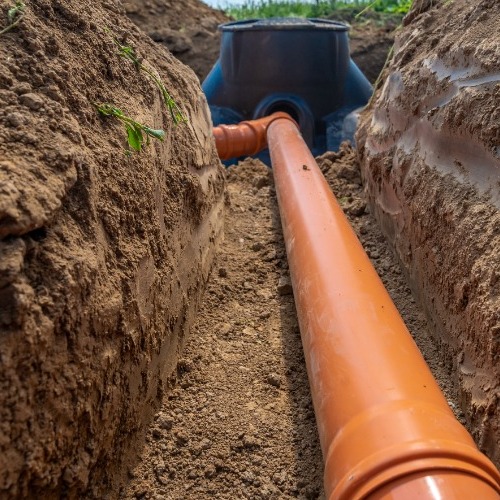 Are You In Need of Plumbing Excavation?
With so many things for homeowners to look after, it can seem like plumbing maintenance is at the bottom of the list. However, plumbing is one of the first things that homeowners should be looking after, as well as their HVAC systems. Our skilled crew is adept at getting to the bottom of truly big issues like plumbing repair and sewer line excavation. For plumbing installations, it pays to have the experts on hand to deal with the really messy problems of homeownership. Not only are we skilled at handling these issues, but we also prioritize customer service, which sets us apart from the competition.
What Does a Plumbing Excavator Do?
If you would like to learn more about what a plumbing excavator does, please allow us to shine some light on this important topic. The process of plumbing excavation is quite simple. The soil is excavated using high-pressure water to reveal the pipeline. With pressured water, dirt is removed from the pipeline and it is then moved into a debris tank. Each home and each plumbing situation will be different which is why there may be different methods or tools applied during the procedure.
How Do You Excavate a Sewer Line?
Sewer line excavation is no laughing matter. In order for a team of professionals to get started on the process, first, they must locate the sewer line. Afterward, the utility lines must be discovered and marked. The permit must be applied for, and then all obstructions must be removed. Once those things are completed, the sewer trench can be dug, and the tree roots can be cut. At this point, the sewer line problem can be addressed. The project completion is never far behind.
Our Handy Team is Here To Help
If you have any plumbing problems or are in need of excavation, turn to our home improvement company first. Please feel free to reach out to us at 267-622-7158 and touch base with one of our friendly team members. We'd be happy to discuss any home improvement needs that you may have and give you a competitive quote.
If you are in need of excavation services in Philadelphia, PA, our phone number is the only one that you need to know. Please reach out to us at 267-622-7158 today!