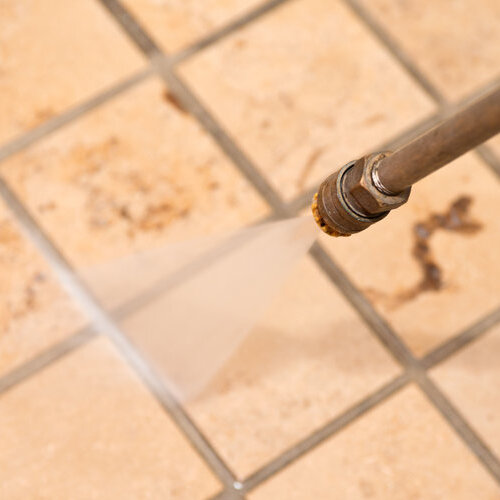 Keeping Your Floors Clean
Nothing speaks louder about your business than clean floors. Nobody wants to do business with a place with dirty, dungy, nasty, or old and worn-out commercial flooring. And you can clean and clean and clean, but if you aren't using the right methods or products, they aren't going to look any better – not for long anyway.
Does your daily staff clean the commercial flooring in your business, typical for restaurants? Or do you have them professionally cleaned, as is typical of businesses and retail stores? Either way, chances are they may not be getting cleaned right. There is a right way to clean commercial vinyl floors, and commercial floor cleaning chemicals are different from what you might be buying at a big box store or online.
The type of products you use for cleaning commercial flooring will depend on the type of flooring material you have and the type of business you're running. For instance, the tile flooring in an office building lobby and your restrooms is different from the vinyl flooring in the break room or kitchen. And that is all going to be different than the flooring in a retail store with foot traffic all day, every day.
Then there is the commercial kitchen flooring with not only foot traffic, but food and grease spills. So, let's start with the commercial kitchens. What is the best floor for a commercial kitchen? Commercial flooring for kitchens must meet a lot of different demands when compared to the flooring in a bank or retail store.
Two of the most popular choices for commercial flooring in kitchen areas are ceramic tile and vinyl flooring. However, in some environments, brick or natural stone are popular choices too. All four of these can withstand constant spills and high temperatures along with heavy equipment. They're also water-resistant.  
When you think of your home kitchen flooring and all the abuse it can take, remember that commercial flooring in kitchens takes a thousand times more punishment. The commercial flooring for restaurants must meet all the following criteria, and in some instances, there may be other important factors to consider:
Safety First — Slip-resistant commercial flooring is a non-negotiable must have in kitchens. It must have good enough traction to help limit slips and falls.
Sanitation — A kitchen floor needs to be clean – this is another non-negotiable must have for a commercial kitchen and commercial flooring. Daily cleaning requires heavy-duty chemicals that the flooring must withstand. And it must be easy to clean, too.
Infection Control — Eliminating bacteria and viruses is a high priority for any commercial kitchen. This is why commercial flooring for a kitchen must be pre-treated to limit microbial growth and infection.
Comfort — The staff in a commercial kitchen is on their feet for hours, so comfortable commercial flooring is a must
Aesthetics — It may be a commercial kitchen, but commercial flooring needs to look good too and blend in with the restaurant's interior design theme.
What is the best commercial flooring for high traffic areas?
Not all flooring materials are the same, and that includes the different types of commercial flooring. All flooring materials are made differently, look different, and perform differently in different situations. So, does this mean are we telling you commercial flooring is different from the flooring you have in your kitchen at home?
Absolutely! If you are designing and preparing a commercial building, there are several factors to consider when it comes to choosing the right commercial flooring. Things you should consider are:
How heavy will the foot traffic on this commercial flooring be?
Will heavy objects be sitting on this commercial flooring?
Could heavy objects be dropped or fall on this commercial flooring?
Will this commercial flooring be subjected to chemicals or other liquid spills?
With high-traffic commercial flooring, you also want the material to offer things like:
Durability – Withstanding heavy wear and tear for long periods of time, typically from foot traffic, but also equipment moving, objects dropping, liquids being spilled, and other issues that arise in commercial areas.
Easy Maintenance – Commercial flooring should always be simple to maintain so that cleaning doesn't interrupt business and operations, even if you need emergency cleaning. Knowing how to clean commercial tile floors is important so you get long-lasting flooring for a high ROI.
Cost Effective – The initial upfront cost, cost to maintain commercial flooring, and how often it will need to be replaced should all be take into consideration.
Aesthetics and Design – Depending on the purpose of the space, commercial flooring may need to be a priority to fit the rest of the décor. Hotel lobbies, reception areas, and retail areas must look pleasing and welcoming. However, for some areas like kitchens, functionality is more important than the way it looks.
With all these factors taken into consideration, 12 of the best commercial flooring materials and options we recommend include:
Porcelain Tile: Clay minerals and water are used to make these tiles; they are similar to ceramic tiles though created with a different process, including being baked at a higher temperature, making them denser and stronger.
Quarry Tiles: Made along the same process as ceramic or porcelain but thicker; these tiles typically come unglazed.
Natural Stone: This commercial flooring is durable, elegant, and has a hard surface that can last for a lifetime with proper maintenance. It's also easy to clean and maintain. 
Vinyl: This PVC material is hard but flexible, waterproof, stain-resistant, and resilient to heavy foot traffic and impact.
Engineered Bamboo: This has the aesthetic appeal of hardwood flooring and feels like hardwood flooring, but is denser, harder, and more resistant to scratches.
Laminate Flooring: Melamine resin and a plywood core make this look like stone or wood, but it is easy on the budget and durable.
Commercial Broadloom Carpeting: This is a strong, high-quality choice, typically found in residential rentals for wall-to-wall flooring. It is soft but durable for heavy wear and tear.
Carpet Tile: Similar to commercial broadloom carpets, this option is easier to repair by replacing a tile. 
Rubber Floor: Durable, absorbs the high impact of heavy objects being dropped, this is resilient and absorbs sound, while still being a comfortable flooring option.
Terrazzo Flooring: This is a composite material that consists of granite, marble, or quartz stone chips mixed with a cement binder that is poured on site and sometimes installed in tiles. A durable and hard-wearing flooring that lasts. 
Sealed Concrete: Offering high resistance to impacts and scratches, this is a hard-wearing flooring that is chemical and stain-resistant, too. 
Epoxy Floor Coating: Ideal for concrete flooring, this is a chemical coating that forms a durable, hard, but smooth surface.
What is the most durable commercial flooring?
Terrazzo is the best thing on the commercial flooring market for large areas with heavy traffic like airports and showrooms. It's durable but still provides a chic, upscale look while also being LEED-friendly. It is made from a mixture of a cement matrix or an epoxy resin mixture with marble, recycled granite glass, or other aggregates.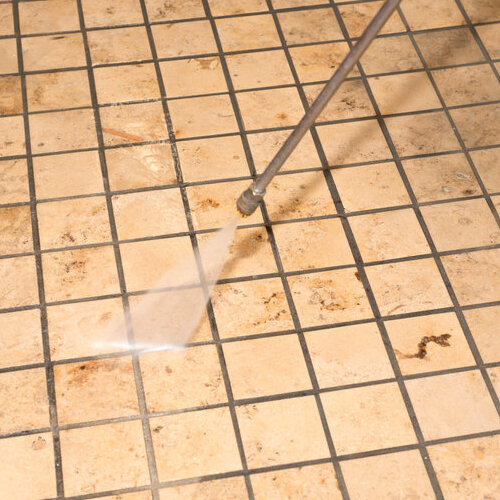 In Conclusion
With the expense of commercial flooring, no matter which flooring material you choose or already have in place, it is important to use a professional cleaning service that knows how to polish commercial vinyl flooring and how to wax commercial floors. Sometimes, having machine polishing and waxing isn't the correct process – an experienced cleaning service will know the difference. Cleaning and maintenance are key elements in the longevity of commercial flooring.