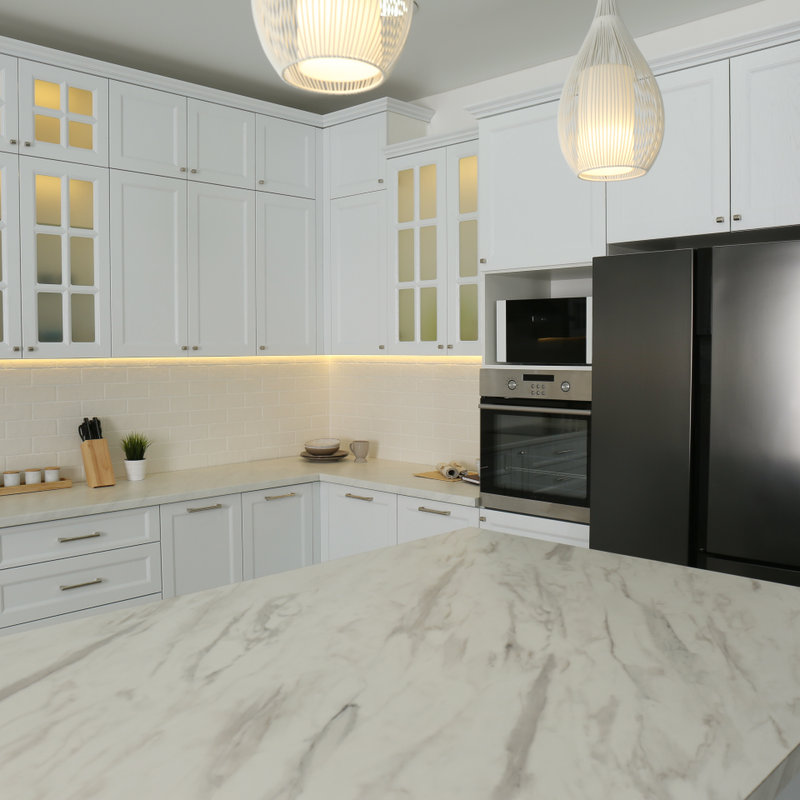 Building a Beautiful Kitchen
While under mandatory quarantine, a lot of homeowners decided they needed to redecorate or remodel their homes. You can only watch so much television and create so many YouTube videos with the family, right? That's part of why recent years have seen an increase in a variety of professional kitchen remodeling services.
That is an indication of what we were spending a lot of our quarantine time doing: eating. But that leaves us with many other questions, especially if you've never done any type of kitchen remodeling. Like, what is the first thing to do when remodeling a kitchen?
What are the steps in remodeling a kitchen?
In the real estate industry, there are two key sayings to keep in mind, the first one being: LOCATION, LOCATION, LOCATION. The second – Kitchens Sell Houses! And beyond the real estate industry, the kitchen is the heart of every home. So, whether you're considering remodeling the kitchen to get your home ready to sell or you simply want to update it for your own use, remodeling experts and professional kitchen remodeling services will recommend you take certain steps to make the process go as easily as possible. 
Step 1: Determine the "must-have" features and the "want to have" features.
The first step to take with a kitchen remodeling project is to determine what are the "musts" and "wants" so you can narrow down your options and set your budget.
Step 2: Set your budget.
Now that you know your "musts" and "wants", you can set a realistic budget. After that, you need to take the precautions necessary to make sure you don't go over that budget.
Step 3: Hire the professionals.
You know what you know, and you have to think about your skill levels versus what you want in your kitchen remodel. With your budget determined, hire the professionals for the kitchen remodeling services you need – the things you're not experienced with and the things that require permits and licensing. 
Step 4: Demolition Time.
With the first three steps completed, it is demo day! If you have professional kitchen remodeling services on the job, they'll handle this part. If you're looking to save some money, you can kick things off by doing your own demolition. Before you start knocking out walls, a few steps for preparation are needed:
Turn the electric, gas, and water off
Remove the appliances and empty the cabinets
Have a dumpster in place and ready for the trash
Place drop cloths on the floor if they aren't being replaced
Step 5: The plumbing update
With the kitchen gutted, get the plumbing updated and upgraded. If you've had any of the following issues, now is the time to address them with a professional kitchen remodeling services contractor:
Low water pressure
Hard or soft water
Leaking faucets or plumbing
Clogged plumbing
Adding or removing gas lines
Replacing or updating shut-off valves
Step 6: Time to light it up and power it up.
Any electrical changes and updates should be left to the professional kitchen remodeling services you've hired. This can include installing new lighting and dimmer switches, installing wiring for new appliances, and other services.
Step 7: Drywalls up.
With your electrical, gas, and plumbing upgrades all in place, it's time to get the walls up!
Step 8: Bring in the colors.
Now you can add in the colors you've envisioned. Professional kitchen remodeling services typically have professional designers on staff to help you choose the color that is right for you and your home and who can give you insight on current trends.
Step 9: Time for the floors.
With the drywall up and painted, it's time to focus on the flooring. Choose the flooring material that best suits your family and your household activities. If you're placing your house on the market soon, follow the recommendations of the kitchen remodeling services you've hired. Part of their job is knowing what trends home buyers want. 
Step 10, 11, and 12: Bringing it all together.
The cabinetry, countertops, and backsplash, and appliances! Again, use professional kitchen remodeling services for these things to make sure they are installed correctly. Use their experience and knowledge of what the trends are in these areas for your own use and for prospective buyers.
What do you pick out first when remodeling a kitchen?
Ask anyone what they recommend, and they'll tell you to choose your appliances first.  Designing your cabinet layout and the countertops is fun, and it's important. However, with the appliances selected, you can build the layout around the sizes of the appliances. 
The Full Kitchen Remodeling Process
Depending on where you live, there may be steps that need a city inspection before you go to the next step. Kitchen remodeling services know this and will add these times into the timeline they give. The basic steps will go something like the following:
Demolition and tear out
Electrical, framing, and plumbing rough-in
Professional Inspection
Drywall install
Doors and windows
Cabinetry, electrical, and plumbing
Appliances
New flooring
Professional inspection and walk-thru
What's trending in kitchen remodeling?
We've mentioned referring to the kitchen remodeling services professionals for what's trending, but what are the trends for 2022? Well, you can start with a subway tile backsplash, which is larger in size than normal and goes in different directions, from the counter to the ceiling.
Stained wood cabinets in shaker style have been popular and this will continue into 2022. And where you don't have cabinetry, floating shelves are popular. Where you have appliances, build it up as a workstation so that anything you need is in reach. Colors in the kitchen go from bright and colorful to matte black for a bold statement. Your kitchen vent-a-hood is the focal point these days. 
What should you not do when remodeling a kitchen?
A lot of effort, money, and time goes into kitchen remodeling. The following advice will help you avoid common mistakes that others have made along the way.
Wasting Space and Steps: Design the kitchen so you aren't walking a mile while cooking and avoid any dead space. 
Tight Aisles and Walkways: Kitchen aisles and walkways should be wide enough for all that goes on in your kitchen – multiple cooks, kids in and out while cooking, and even pets. 
Think in 3-D: Creating a kitchen that is functional is important. Take into consideration the direction of how things open as you plan the space. How much clearance do the fridge and oven need, how far out does the dishwasher door open, and other small things that can affect the aisle and walkways should all be considered.
Overload and Oversize Islands: Instead of one huge island, go with a few smaller ones. More than 4' deep or 10' long is too big. 
Small Space Overwhelmed: If you have a small kitchen, forget the kitchen island, and go with a peninsula. Every step in designing your kitchen remodeling; think about the space you have to work with. 
Avoid Making Changes: Once the kitchen remodeling services begin the work, or if you're doing it yourself, try not to make changes in the plans. This can take more money you don't have budgeted and can take longer to get the job done. 
Not Enough Storage: This is where professional kitchen remodeling services can be a great help – planning your storage needs. Once the job is done, you don't want to realize you don't have enough or the right storage. 
Forgetting Family and Friends: As we said earlier, the kitchen is the heart of the home. You want to make sure your kitchen remodeling services account for the number of family and friends that are in your home. 
Impulsive Decisions on Design: How a material looks on a showroom floor may not be the same as it will look in your home. Consider the artificial and natural lighting, the positioning, and more when choosing materials and items.
What is the most expensive part of a kitchen remodel?
Cabinetry will be the biggest part of your budget – up to 40% of the budget in fact. A minor kitchen remodeling can spend as much as $15,000 on cabinetry. If you're doing a total upscale remodeling job, you can expect to spend $30,000 on the cabinetry.
What is the cheapest way to renovate a kitchen?
Well, the first thing that kitchen remodeling services professionals will tell you for saving money is don't replace the cabinetry. Instead, update them with fresh paint. Other money-saving tips for kitchen remodeling are: 
Budget countertops.
Add roll-out kitchen shelves.
Choose good lighting pieces that are bright and wide.
New paint and new curtains can do a lot for a little cash.
Choose a good kitchen faucet; it'll be worth the money.
What is the cost of a typical kitchen remodel?
Expert kitchen remodeling services will tell you that the cost is going to depend on how detailed and lavish you're going to get. You can spend as little as $4,000 on average for a small kitchen and as much as $34,000 for a large, full blown kitchen remodel. The average is around $12,000.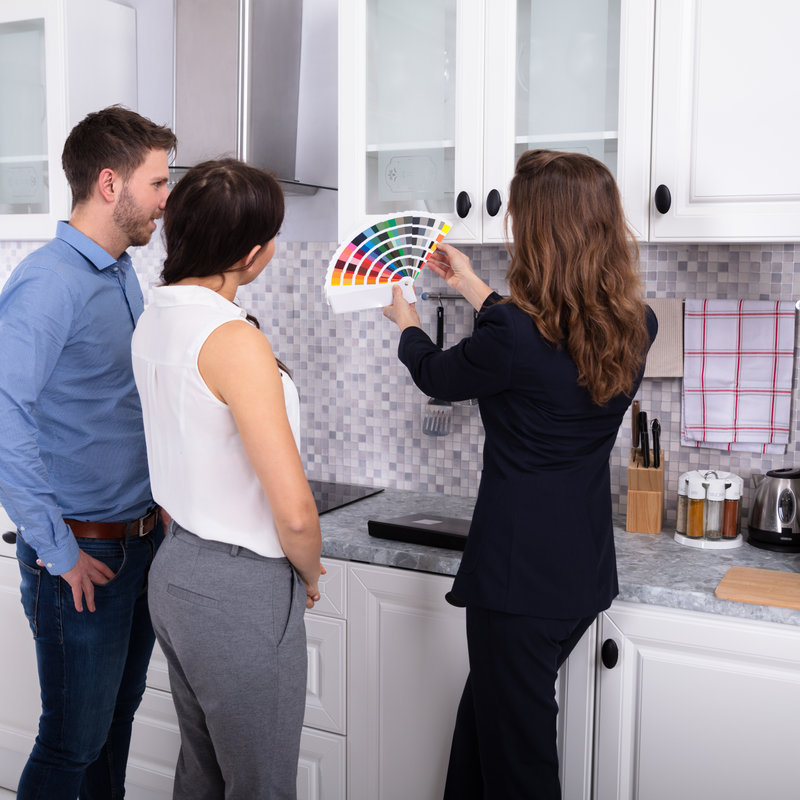 When It's All Said and Done
So is remodeling a kitchen a good investment? You won't get 100% back on your investment, but yes, it is a good place to put your money for future resale value. The ROI for a standard mid-range kitchen makeover can be as much as 60% of your remodeling budget.