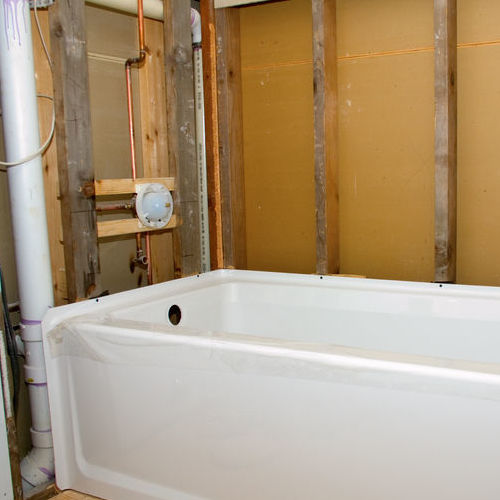 In what order do you remodel a bathroom?
Other than the kitchen, the bathroom is one of the first spaces in a house people decide to remodel. How to go about a bathroom remodel is a big question people will have on their minds before they start. Once you have an idea in mind about your color scheme, what new fixtures you want, what storage space your adding, and where your utilities will be located, you're ready to get down to work.
The first step in any remodeling is demolition. Taking care not to damage plumbing and wiring, you'll tear out old fixtures like your toilet and tub, and then remove cabinets, mirrors, floor tiles and other items.Follow up the demolition by installing your new shower or tub basin. Next you'll lay down the new tiles, and then hang your new drywall and do the painting. Once the new drywall is in place and painted, the cabinets, mirrors, and vanity will then be installed. You may need to do some rewiring beforehand to ensure the wiring fits with the new fixtures. You follow up with your new sinks and toilet. Your final steps will be the touch-ups like adding trim around the room and mirrors.

If you are looking for a bathroom remodeling professional in Philadelphia, PA, count on the team at Armour Seal Exteriors, Roofing, Masonry and Contracting. We put your needs first. Call us today at 267-622-7158 to find out more.

As the bathroom remodel chugs along, you'll definitely want to enlist a residential plumbing service for all your plumbing installations.

Bathroom remodeling ideas
Are you thinking about a bathroom remodel but aren't sure where to start? Here are some bathroom remodeling ideas to get you started:

Go all white: For a modern look, think about all white fixtures and flooring.
Go all black: Black can make a bathroom look elegant. Add a few splashes of color for contrast.
Add a walk-in shower: Walk-in showers have become trendy in the past few years. They can be very luxurious.
Go natural: Use white as a base but mix it up with natural colors like greens and browns. Add bamboo shades over the windows to add to the natural look.
Get simple, but elegant: Soft blues and greens with clean lines and simple shapes can make a bathroom elegant.
How long should a bathroom remodel take?
Ideally, with all the parts working together, a bathroom remodel should take about 4 ½ to 5 weeks, or roughly 20 to 25 days, if no work is done on the weekends. But that's an ideal world in which no one gets sick, all the workers show up, and all your materials are readily available, and no change orders are made, and there are no gaps between the work steps. It's probably more realistic to expect the work to take about double that time. In business days, this is about 9 weeks, or 40 to 50 days.

Bathroom remodeling and cost
On average, a bathroom remodel will cost anywhere between about $10,000 to $15,000. About 20% of your bathroom remodeling budget will go to labor. If you are planning to remodel your bathroom in Philadelphia, PA, and want affordable, reliable service, check with the professionals at Armour Seal Exteriors, Roofing, Masonry and Contracting. When you choose our team, we always put your needs first.

What is the cheapest way to remodel a bathroom?
A you can see, a bathroom remodel can be expensive, depending on your design and the materials you use. But, the remodel doesn't have to break your budget. You can lower costs in various ways including:

Limiting tile: Bathroom remodeling with tile can be expensive because, tile is one of the more expensive items on your bathroom remodel shopping list. Use tile sparingly on high-impact areas like flooring or inside the shower.
Saving on countertops: You can go with less trendy countertop styles and colors or try something trendy like repurposing an old dresser into a sink pedestal. 
Painting: Sometimes just adding a different color to the walls is all it takes to give the bathroom a completely new look.
Updating fixtures: Getting modern, updated faucets and fixtures like towel racks can add a little punch to the bathroom without breaking your budget.
How do you remodel a small bathroom?
Remodeling a small bathroom can take just as much time as a large bathroom remodel. Planning is always the key for any remodeling project. You also want to consider the different types of bathrooms, as well as who will be using it, before you make your remodeling decisions. With a powder room or half bath that's little more than a sink, toilet, and door, you may just want to paint or update its fixtures. On the other hand, a full bath or guest bathroom that you or several others may use might require a larger makeover. You could remodel the cabinets or install new fixtures. As with any bathroom remodel, the decisions are all up you and your needs and budget.

How long does it take to replace a shower?
How long it takes to replace a shower will depend on the type of shower you install. Showers come in many shapes and sizes, and use a variety of materials. On average, in a bathroom remodel, it takes about one or two days to install or change out the plumbing and about two more days to install fixtures like showers and toilets. Again, the time it takes will vary with the type of shower you're installing.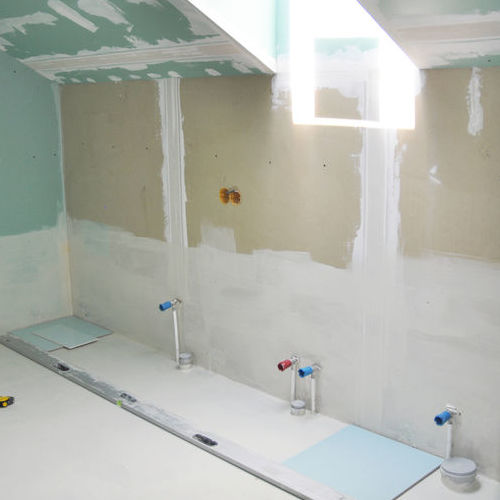 Bathroom remodel and repair
When you are looking for professionals for a bathroom remodel or repair in Philadelphia, PA, you can always rely on Armour Seal Exteriors, Roofing, Masonry and Contracting. When you choose our team, we always put your needs first. We make sure you stay within your budget, while at the same time providing you with the beautiful bathroom you've been dreaming of. Find out more about our bathroom remodeling services by calling 267-622-7158.