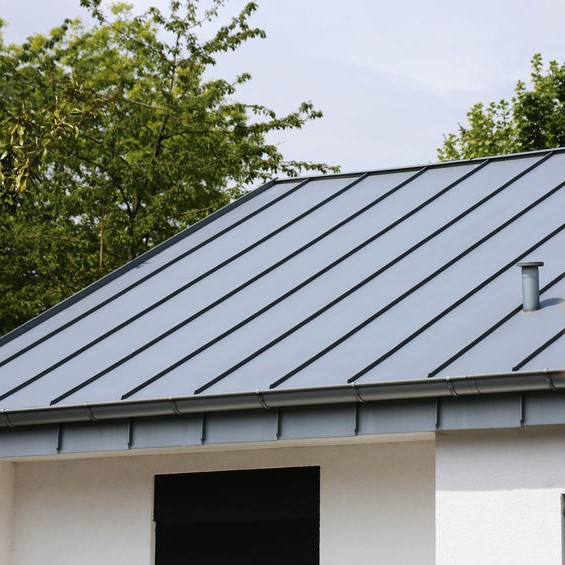 What is the best coating for a metal roof?
There are several different types of roofing for commercial buildings, with commercial metal roofing a common choice for many building owners. There more metal roofing for commercial buildings beyond installing the roofing material though, and this isn't what the unknowing eye doesn't see. We're talking about a coating over that commercial metal roofing.
Congratulations on your new Commercial metal roofing! Now, your roofing contractor has suggested a coating for your metal roof, but which coating is the best? An experienced and professional commercial roofing contractor will make sure you have the best and latest information on commercial metal roofing and the various coatings available so that you can make a solid decision.
With that information, you now know that there are metal coatings that will give you optimal performance and results, like a fluid-applied commercial roof coating system. It can prolong a commercial metal roof's longevity and when the roof coatings are done with any necessary repairs, it will make your commercial metal roofing resistant to almost every element.
A review of commercial metal roofing coating finds several definitive options, like an acrylic metal roof coating, in different colors. The most common though is a white reflective metal roof coating, especially in areas where the summers are hot. Some of those roof coatings used are:
Sta-Kool 805 Metal-X: A durable elastomeric roof coating that is formulated for outstanding bonding strength to commercial metal roofing.
Rust-oleum Metal Roof Coating: A popular choice for commercial metal roofing.
Henry Elastomeric Metal Roof Coating: Provides a Dura-Bright finish.
Liquid Rubber Waterproof Metal Roof Coating.
It is important to have a professional commercial roofing contractor that is experienced, reputable, and trustworthy. One that knows commercial metal roofing and the different coatings available. Yes, you're thinking to yourself, "I want a contractor that does commercial metal roofing near me and commercial metal roofing supplies near me for convenience.", and that is important, but not as important as experience and reputation.
Is it recommended to insulate under metal roof?
While commercial metal roofing is a durable way to roof your commercial structure, it does have a high thermal conductivity. What can be done about that? Insulate it and there are several options for commercial metal roofing insulation. Your choices in insulation are:
Fiberglass Batting
A popular choice for all types of roofing because it is inexpensive with a range of various R-values, the thermal resistance measurement. Remember, the higher the R-value number, the better the insulating results.
However, fiberglass batting has its challenges, starting with the installation difficulties. Chapping it around corner, over rafters and wires can be difficult. Fiberglass batting insulation doesn't offer a good vapor barrier either. Therefore, moisture doesn't dissipate, and it loses its R-value. Also, realizing that fiberglass batting consists of miniscule bits of glass shards that can be breathed in if it isn't installed correctly.
Rigid Foam Board
The more expensive choice compared to batt insulation because of higher R-values. Provide soundproofing as well as weather insulation but has its challenges as well. Like batt insulation, it doesn't form well around corners or other tight situations.  Your commercial metal roofing must be vented and have a vapor barrier installed when using rigid foam board insulation because this is not a moisture proof insulation material. 
Spray Foam
Another option that costs more than the fiberglass batt insulation, but unlike the rigid foam board, the R-value is lower. The upside is that it will get into every corner and crack needed, providing a better coverage than the other two options. There are two forms of spray foam insulation: 
Closed-cell – the expensive of the two because it has better insulation powers.
Open-Cell the less expensive of the two and has less R-value.
Keep in mind whichever type of commercial metal roofing insulation you choose it will do more than minimize or stop the transfer of heat. It is also going to be somewhat soundproofing your ceiling against hail, hard rains, and high winds. As to which type of insulation is the best is all dependent on the type of structure you have and the climate it is located.
Can I put a metal roof on top of a metal roof?
Yes, if the existing commercial metal roofing panels are not severely deteriorated. Obviously, there is a reason you're having a new commercial metal roofing installed, or you wouldn't be concerned about installing new over existing. However, you don't want it so deteriorated that it can't provide any type of support for the new commercial metal roofing.
Can a metal roof be repaired?
Absolutely, but if commercial metal roofing repairs are not done correctly, it can cause more problems. Like any type of roofing system, a commercial metal roofing system requires regular maintenance, upkeep, and repairs. When those repairs are done properly by a professional metal roofing contractor, they can last as long as the rest of roof. However, when they aren't done correctly, the repair can break and fail, leaving you more problems than you had before.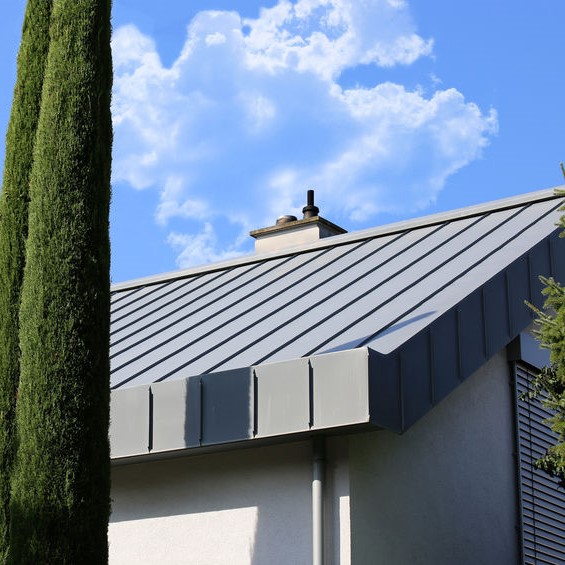 What are the different types of commercial roofs?
There are four different types of commercial roofing system that are commonly used today: 
Spray Polyurethane Foam (SPF): An eco-friendly commercial roofing option, popular on industrial and manufacturing structures too. A liquid that is sprayed on and turns to an expanding foam that has been around since the 1960s. Has a lifespan of 50 years or longer. 
Single-Ply Membrane: This roofing material is a time-tested commercial roofing option that is also found on industrial and manufacturing structures. These rubber and synthetic sheets are installed and fastened to the structure ballasted, chemically adhered, or mechanically. Different types of this roofing option that can fit different budgets and needs. 
Metal Roofing: An old commercial roofing system that is typically a corrugated galvanized steel but also found in aluminum or tin. Lightweight makes installation easy and with the right commercial metal roofing coating, it becomes rust resistant, waterproof and UV resistant. 
Built-Up Roofing Systems: For more than 100 years, this commercial roofing material has been used, and known as the tar & gravel roof.  Applied in layers depending on the customer's budget  and needs.
Call 267-622-7158 today for metal roofing system service in Philadelphia, PA.