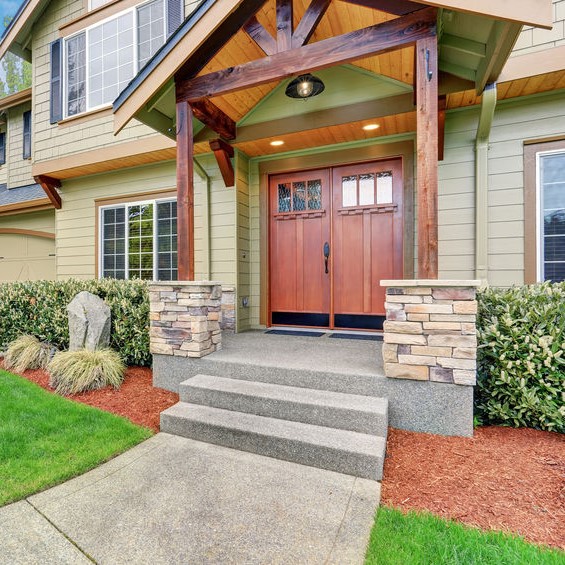 Which is stronger cement or concrete?
Have you ever thought about concrete projects for your home? If you are looking for ways to add uniqueness to your home using a material that most people wouldn't think about using, concrete projects are a good place to start. You can surf the internet or browse through magazine to find several quick concrete projects. t's all about what you're looking for and of course, your budget and time.
Before we answer questions and talk about ideas for concrete projects, let's discuss the variance between cement and concrete. First, even though the words are frequently interchanged, the differences between the two are massive and important, with concrete being the stronger of the two.
Concrete is made from a combination of aggregates and paste. The paste is made from Portland cement and water and is used to coat the surface of the aggregates. The aggregates are made of both fine and large size rocks. This makes a good material for driveways, foundations, and roadways because of its strength. 
Cement is a durable product, but not with the same strength of concrete. Cement is made from calcium and silica-rich materials, which is prone to crack under pressure. It is an ideal material for decorative, smaller concrete projects but not for projects like driveways, foundations, or roadways where there is heavy foot or vehicle traffic, nor is good for supporting a structure like a house.
In some cases, rebar is used for strengthening concrete projects that are more than five inches deep, like buildings, driveways, and roads. For a non-commercial or public use, rebar may not be required but if you want to give your concrete project. More reinforcement, there is a wire mesh available.
What are some good projects to do?
The sky is the limit when it comes to different concrete projects home ideas. You can create industrial and modern designs or go with a rustic and timeless look. Some cement or concrete projects and ideas to consider:
Pathways and walkways around your home, through the gardens and from the house to the she-shed, garage, or pool house.
Create a unique pool deck.
Planters for the garden, the front porch, and back deck.
Edging for the garden and walkways.
Volitive candle holders for the deck using red plastic cups for the mold.
iPad holder on the deck or by the pool using a movie popcorn box for the mold.
Pendant lighting using two-liter soda bottles for the mold.
Is it easy to make concrete? and How do you make concrete by hand?
If you're concerned about making your own concrete, there is pre-mix bags available at any home improvement store but making your own can add to the sense of accomplishment. With the following steps, you're on your way to home DIY projects that will be with you for years to come:
Crush the limestone into 3-inch pieces or you can purchase it already crushed.
Pour the crushed limestone in a kiln and heat to 2,700°F.
Remove limestone from kiln and after it cools, with rubber gloves on, crumble up the heated limestone.
With a shovel, mix cement and all-purpose sand in even parts in a wheelbarrow.
Add 4 parts crushed brick or gravel to the mixture.
Add water slowly to the dry ingredients in a 5-gallon bucket.
Using your shovel, mix the ingredients thoroughly.
Wash your mixing tools and wheelbarrow with water house.
Regardless of which type of concrete you choose, making your own or mixing it together, the process is easy when you have the proper materials and tools.
Is concrete waterproof?
If you're considering concrete projects for the garden, think again. Concrete becomes a porous material during drying, so no, it isn't waterproof. The porous material will seep water, staining the concrete. As water seeps in, it starts to wear away the concrete and large pockets of water collect, causing more damage.
As water soaks into the concrete, it begins to wear away the concrete material, forming large pockets where the water collects, further damaging the concrete project. Water seeping into concrete can also cause staining over time on the surface of your concrete, and it can infiltrate your building and cause significant damage.
Fortunately, products are available on the market that lessens the porousness of the concrete. Some are mixed while the concrete is pouring, and some are applied to the surface. There are specialty concrete coatings that protect the surface from staining and make it UV resistant.
For those outdoor concrete projects that will be exposed to elements, there are waterproof products. These concrete projects such as sidewalks or exteriors of building to keep them and the curb appeal looking good. If your concrete projects are below the ground surface, it is recommended to hire a professional to waterproof. Call 267-622-7158 today for your concrete project needs in Philadelphia, PA.