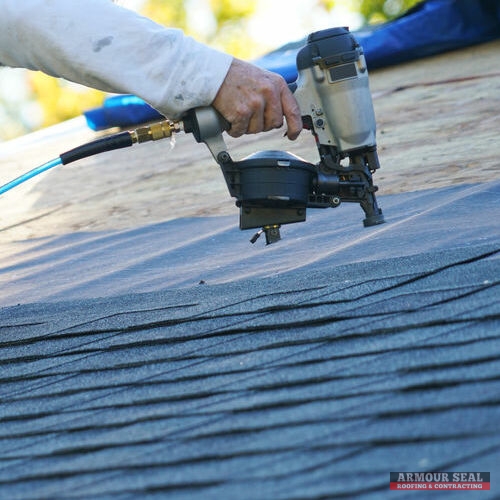 Is a Hole in the Roof an Emergency?
If you've never experienced one, you may be wondering just what counts as an emergency roof repair? Well, if you have water coming through the ceiling of your Philadelphia, Pennsylvania home, that will definitely deem an emergency roof repair. Why is it an emergency, just how urgent is a leaking roof?
Down to the roofing matter at hand, there are specific situations that qualify as needing an emergency roof repair:
A tree branch, tree limb, an entire tree, or other wind-borne objects that smash a hole into the roof or have caused the roof to cave in, which allows more water, or critters, into your home, you need an emergency roof repair.
If the metal flashing or a large number of shingles have been blown off your roof, allowing a major leak from the roof, you need an emergency roof repair.
If you've had to fasten a plastic tarp over a section of the roof to cover damage and keep water out of your home, or you've made a temporary patch, you need to get an emergency roof repair sooner than later.
If your roof has been subjected to a fire, even if there isn't a hole in the roof, the integrity of the roof has been compromised. You should get emergency roof repairs made or evacuate the property.
Why is a leaking roof considered an emergency?
The number one reason that a roof leak is an emergency is the integrity of your home's structure is now compromised! The foundation and the roof are essential in maintaining your home in a safe manner.
Additionally, your personal belongings, including the carpeting, drapes, electronics, furniture, and other personal items are at risk of being damaged, even ruined beyond repair. Even the smallest leak can become massive if the rain last more than one day.
After one day, what was a small leak will grow, allowing more water inside your home, puddling up on the floor, making it hazardous to walk on. The ceiling and walls become water stained, paint begins to peel, flooring buckles, and this is all weakening the structure.
When That Roof Leak Happens
So, it isn't an everyday occurrence, but that doesn't mean you shouldn't be prepared and know what to do if your roof is leaking, whether it is small or large. By knowing what to do in a roofing emergency and when to reach out for emergency roof repair can keep from causing severe damage or totally destroying your home. The following steps will help minimize the damage until you are able to get professional emergency roof repairs:
Place a plastic tarp and bucket under the leak to catch the water coming in.
Then climb to the rooftop, if safe, and measure the size of the hole.
Cut some 2×4 boards in half.
Take the 2×4, a plastic tarp, screws, and roof sealant.
Position the tarp over the hole and position the cut 2×4 board around to hold the tarp in place.
Screw the boards into the tarp and roof then cover with roof sealant.
Go in the attic, take more cut 2×4 boards and a cut piece of plywood or extra shingles.
Position the plywood or shingles over the hole and hold in place with the 2×4 boards and screws, then cover the edge of the plywood or shingles with roof sealant.
So, do you know what to expect with roofing emergency calls? If there has been widespread severe weather, you can expect the contractor you call for an emergency roof repair may take several hours. The contractor will inspect the roof from on top and in the attic, inspecting and measuring.
Once they have completed their inspection, they will provide you with an estimate which should have details of what is needed and the cost. Ask for two copies so you can share one with your insurance company.
If you haven't already, call your homeowner's insurance company and file a claim. Be sure to advise them you had an emergency roof repair already done. The insurance company will assign an adjuster to your home who will contact you for an appointment. Try to arrange for the contractor to be there at the same time so they can work with the adjuster, pointing out things they found the adjuster may overlook. 
On The Bottom Line for The Top of Your Home
A big question for any homeowner is, "What is the cost of emergency roof repair?", but there is no flat rate for this work. The repair will depend on several factors like the severity and size of the roof damage, the type of roofing material, and how many crew members will be needed.
The importance of getting emergency roof repairs done cannot be stressed enough. There amount of damage that can keep happening will be expensive and if the insurance adjuster deems that had repairs been done in a timely manner, the additional damage would not have happened.
For immediate help with emergency roof repair in Philadelphia, PA, reach out to the pros at Armour Seal Exteriors, Roofing, Masonry and Contracting by calling 267-622-7158.