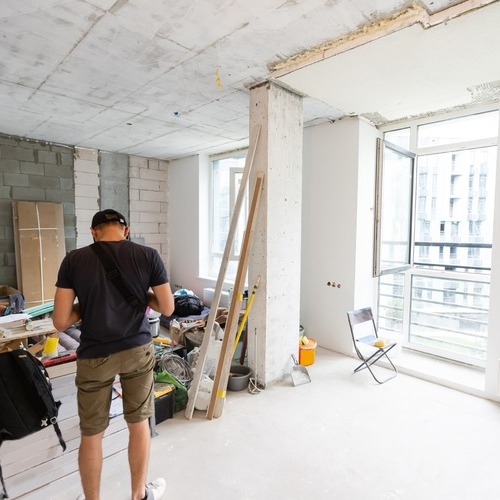 Kitchen Remodeling
Maybe your family has outgrown it, maybe you're just tired of it, or maybe you're planning on selling your home soon. Kitchen remodeling in Philadelphia, PA could be on your radar for any of these reasons, or many that we don't have space to list.  
A kitchen remodel, or any type of change or upgrade to your home is considered an investment. So, speaking of reselling your home, a common question among homeowners is, "Is a kitchen remodel worth the investment?" For 2023, experts say that what a homeowner spends on a kitchen remodeling job, they can expect to get between 30% and 86A% ROI. Ready to upgrade your kitchen? Call 267-622-7158 to schedule a consultation today.
How much does kitchen remodeling cost?
It is hard to put a number here when it comes to anything to do with a house,  especially a bathroom or a kitchen remodel. It will all depend on just how intense you get with the remodeling. The more you can do yourself as opposed to hiring professionals will help with the overall cost. 
And that leads us to the next common question, "What adds the most value to a kitchen remodel?" Kitchen remodeling can entail a wide range of possibilities, which is why the ROI has such a wide range. From as simple as repainting the walls and changing the curtains to changing out the cabinetry, countertops, appliances, and more. 
So, what will give you the most stunning kitchen and get you the most ROI? Keep reading for the top 5 kitchen remodeling upgrades:
1. Kitchen Island
Real estate experts tell us that adding a kitchen island will increase the storage and workspace in the kitchen, which increases the value too. This can be a costly upgrade, especially if you're going to have electrical and/or water running to it. The pre-built kitchen island is less expensive and adds less value to kitchen remodeling. 
2. Cabinetry
Another value-add to kitchen remodeling is the cabinetry. Either replacing them, painting, or refinishing them will bring you the most impact both in appearance and financially. You may be able to simply upgrade the hardware and give them a good thorough cleaning if the budget is tight.
3. Appliances
This is the biggest attraction, or distraction, for potential homebuyers. Everyone is looking for stainless steel, but if you can't afford that upgrade right now, make sure your existing appliances are in good working order. That one rear burner that doesn't light may just be normal for you, but a home buyer is going to want things glowing! Especially when it comes to the required home inspection when they make an offer. And remember, a good thorough cleaning can help when selling your home almost as much as kitchen remodeling.
4. Countertops
Granite countertops were once the thing to have in your kitchen, but styles have changed. Today, the more popular choice in kitchen remodeling is dark-colored countertops. If your desire is to brighten your kitchen, go with a neutral color in porcelain or quartzite.
5. Multipurpose Workspace
Whether your kitchen remodeling is in preparation for selling or to make your day-to-day life easier, functionality is key. More people are working from home today, so adding a small area with a desk could prove to be valuable to you or future buyers. This way, your computer is right there in easy reach while making dinner, but not at risk of having something spilled on it.
What costs the most in a kitchen remodel?
Believe it or not, if you plan to get all-new cabinetry, that will take up to 25% of your kitchen remodeling budget! The next biggest expenses of a kitchen remodeling job are any electric or plumbing changes and the appliances.
What is the first thing to do when remodeling a kitchen?
It's not just a matter of picking a paint color and cabinet style for a kitchen remodeling project. Every contractor and designer will have their own order of how they work a kitchen remodeling, but the basics will include the following:
Budget and Planning: An all-encompassing plan will help you keep your vision in line with your budget.
Demo and Prep: With your budget and plan in place, time to take down and out what isn't going to stay in the kitchen remodeling.
Electrical and Plumbing: If you removed the cabinets in the demo step, now is the time to put in the electrical and plumbing. You may need to hire a professional for this part to be on the safe side.
The Drywall: Measure twice, cut once! Go ahead and measure three times just to be certain.
The Walls: If you're painting the walls or placing some type of wall covering (paneling, wallpaper, etc.), now is the time this needs to take place.
Cabinets and Flooring: Install the cabinetry first then the flooring. That way anything you may drop while installing the cabinets won't damage the flooring.
The Countertops: If you haven't already done so, now is the time to install your countertops and install them.
The Backsplash: This is where your kitchen remodeling will get its "pop"!
Appliances and Sink: The finishing point of your kitchen remodeling is the appliances and sink. 
In Conclusion
Once all of this is completed, depending on where you live, and if you had any professional services like an electrician or plumber, it is time to request the city inspection. This can set you back to make changes or corrections, or you may get a green tag, and your kitchen remodeling is complete! Enjoy! For expertise in remodeling, schedule an appointment with Armour Seal Exteriors, Roofing, Masonry and Contracting by calling 267-622-7158.