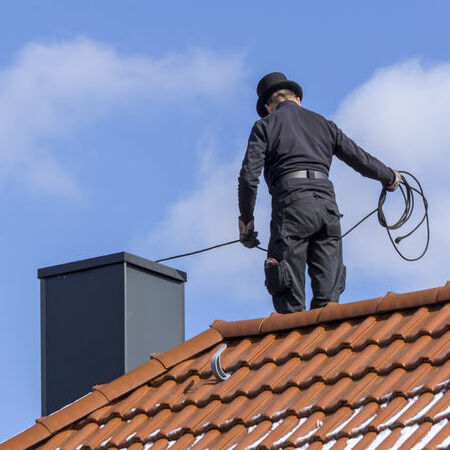 How Do You Fix a Crumbling Chimney?
If you have a crumbling chimney, you are certainly in need of chimney repair. If the brick is crumbling on your chimney, there are certain things that you can do to fix your chimney. In order to repoint crumbling mortar, you can use a hammer or cold chisel to remove the faulty mortar from the joints of the brick. During this process, it is important to only mix up enough mortar that will last you fifteen to twenty minutes at a time. With the bag of mortar close by, add the mortar into the empty joints. You will need to allow the mortar to dry for about an hour. It will also be important for you to consult with a professional roofer who is experienced with chimney repair. It is always best to have a permanent solution when it comes to your chimney repair.
Do Roofers Repair Chimneys?
If you are wondering whether all roofers are qualified to repair chimneys, you may be surprised at the answer. The more experienced a roofer is at repairing chimneys, the more likely it is for the job to be well-done. That is why it is important for homeowners to be very thorough when vetting a chimney repair company or a roof repair company. If the damage is dramatic enough, a roofer may recommend a chimney repair specialist for the task.
Why Does Chimney Leak When it Rains?
If your chimney is leaking while it rains, you're likely looking for a few answers as to why. Here is a list of reasons why your chimney is leaking when it rains.
The chimney cap. The chimney cap is supposed to protect the top of your flue from water intrusion. The chimney cap also protects your home from animals and debris. If your chimney cap is not properly fitted or broken, the flue and fireplace are vulnerable and exposed.
The flue pipe. If the flue pipe is too wide, water can condense and leak at a joint. Wind can also cause the vents to bend and the joints to loosen.
The flashing. The flashing around your chimney is critical. Water can infiltrate through any cracks in your flashing or mortar.
Will Homeowners Insurance Cover Chimney Repair?
Are you wondering whether homeowners' insurance will cover your chimney repairs? It's certainly a viable question. Generally speaking, any chimney work like masonry repair, chimney cover replacement, or damper repair will not be covered by your homeowner's insurance policy. This is because normal wear and tear are seen as the homeowner's responsibility. If the damage occurred due to storm damages or other associated coverage, the insurance company may accept the charges. In order to find out if your chimney repairs can be covered by your insurance company, it is important to consult with a qualified roof repair expert.
Who Do You Call to Fix a Leaking Chimney?
If you are wondering who your best resource is for a leaking chimney, it is important for you to first conduct some research. One of the ways you can start your search is by asking a friend or family member for the chimney repair referral. If that proves to provide a lead, you can then call the chimney repair company or roofing company and discuss the particulars of your chimney. If you are not successful in your initial search, you can also conduct an internet search. Using relevant search terms like "chimney repair near me" you can usually drum up some good resources. It will be important to check the credentials of your final chimney repair selection.
How Repair Chimney Crown
The chimney crown is the upper-most form of the chimney. The purpose of the chimney crown is to allow smoke and fume to vent through the flue. This prevents moisture from getting inside. It is built with wire mesh that is then reinforced with cement. The wire creates the structure, and the cement provides stability and security. The lip of the crown is sloped in order to funnel moisture away from the chimney. In order to repair the chimney crown, you should first consider whether replacing it is a better option. If there is damage that is more significant than a hairline crack, it's a wise investment to move forward with a chimney crown replacement.
Is Chimney Repair Covered by Home Warranty
A builders' warranty will usually cover such problems as cracks in a home's foundation, poor wiring, bad plumbing, and other defects. Whether or not your chimney is damaged as a result of wear and tear or as a result of major structural issues will be clear after a proper inspection has been done.
How to Repair Chimney Flashing
Like the chimney crown, if your chimney flashing is in need of repair, it may be a better idea ultimately to replace the flashing entirely. A consultation with a professional roofer will prove useful.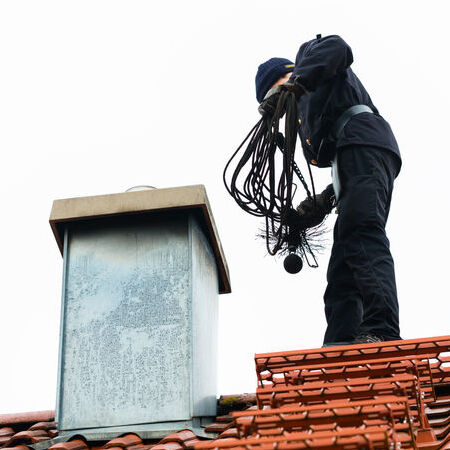 Can I Repair Chimney Cap
If there are small hairline cracks in the chimney cap then it will be a good idea to repair it with a sealant. Sealing the cracks in the chimney crown will prevent moisture from leaking between the walls and the flue inside the chimney.
If you require chimney repair in Philadelphia, PA, the best time to call is now. Our team can be reached 267-622-7158 and would be happy to help.